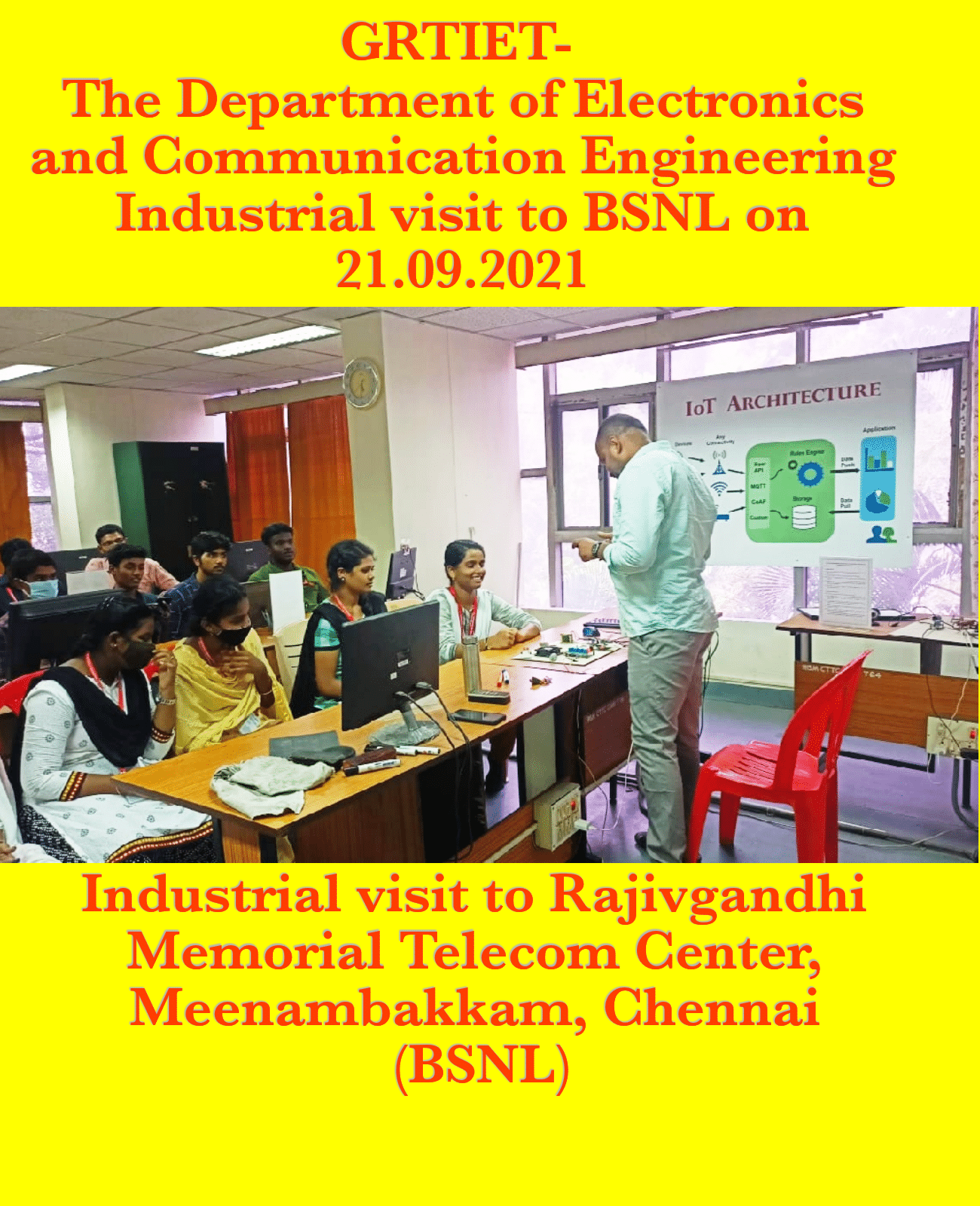 Industrial Visit to Rajiv Gandhi Memorial Telecom Center, Meenambakkam, Chennai. (BSNL)
RGM TTC was originally established during early sixties under the administrative control of the Tamilnadu Telecom Circle of erstwhile P&T Department, then the
Department of Telecom of Government of India. As an in-house training institution of DOT, RGMTTC has groomed the Indian talent in the telecom sector for the last four decades. As a catalyst for the assimilation of new technologies, equipment or methods inducted into the Telecom sector, RGMTTC has serviced the complete training requirement. Be it the recharging of existing professional workforce with the new expertise or be it simply the
dissemination and interaction of new ideas, or be it the modeling of naïve academics into responsible and complete
professionals, ability to handle any complex field assignments, RGMTTC's role has been vital and cardinal
MOU with Anna University, Chennai:
RGM TTC has an MOU with AU-KBC ( Anna
University Chennai – K B Chandrasekhar )
Research Centre for conducting Courses in Wireless Technology.
MOU was signed for conducting courses on different Telecom Technologies with Anna university.
BSNL serves its customers with a wide bouquet of telecom services namely Wireline, CDMA Mobile, GSM Mobile, Internet, Broadband, Carrier service, MPLS-VPN, VSAT, VoIp, IN Services, FTTH etc..
About 36 students visited the RGM TTC. During the visit BSNL Engineers explained the students about the working principles of various Telecom equipment and both wired and wireless networks as follows
1) Introduction about wireless communication and Networking.
2) Hardware Training on IOT Using Raspberry PI and practical sessions
Broadband systems.
3) IOT LAB controlling home appliances using Raspberry PI.
4) SDH SYSTEMS
5) 2G,3G,FIBER TO home,BTS
6) To give ideas in the Networking field and think about the current trend in the job market.
7) The Industrial visit – provides a clear picture to choose students career either job or higher studies in networking.
8) To obtain a job proficient in networking skills and wireless communication
The Industrial visit to RGM TTC(BSNL) was highly beneficial to the students in understanding the concepts of telecommunications and networking principles.
The visit also provided the students with understanding the real time functioning of the telecommunications and networking principles that they have studied in their coursework.