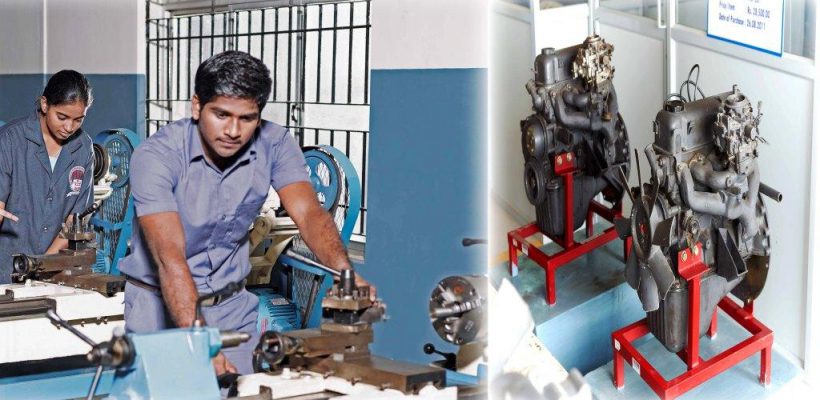 The Department of Mechanical Engineering was established in 2009 with the inception of Institute. Mechanical engineering is the most general form of engineering that a student can specialize in; which implies that upon graduating, the career choice is virtually unlimited.
Welcome to Department of Mechanical
Mechanical

The Department of Mechanical Engineering was established in 2009 with the inception of Institute. Mechanical engineering is the most general form of engineering that a student can specialize in; which implies that upon graduating, the career choice is virtually unlimited.

Mechanical Engineering is the innovative application of science and technology to the design, production and operation of mechanical devices, machinery and systems. Mechanical engineers excel at designing things, especially complex items. They also design industrial machinery and processes, which are used in the manufacture of other things such as paper mills or car assembly plants. Mechanical engineering also involves the efficient use of energy in processes such as heating systems for hospitals or refrigeration plants for food exports.

Upon completion of the degree, students have the opportunities in the fields like Production, Industrial Engineering, Design, Refrigeration and Air Conditioning. They also have the opportunity to work as software engineers in the field of CAD/CAM. Those who wish to pursue further studies can join M.S in universities abroad.

Department Vision

To produce competent mechanical engineers through the meticulous training and excellent pedagogical contributions with the exposure of Inter-discplinary Engineering knowledge.

Department Mission

M1: To disseminate the knowledge through student-centric teaching-learning process.

M2: To enrich the laboratories with modern facilities for transforming as Center of Excellence.

M3: To develop the students' creativity, innovation and entrepreneurial abilities for responding to the evolutionary industrial requirements.

M4: To build the proficiency in the domains of mechanical engineering for enabling the research activities and attaining the societal needs.

Program Educational Objectives (PEOs)

PEO1: Utilize their problem-solving skills to address diverse and intricate industrial problems in various fields of design and production, thereby contributing to the development of their nation.

PEO2: Pursue careers in different sectors such as government services, research organizations, industries, higher education, entrepreneurship, and professional development.

PEO3: Adapt to the ever-evolving technological landscape and employ a coherent and flexible decision-making approach to address complex societal issues, demonstrating their potential to solve broader problems.

Programme Outcome (PO)

PO1: Engineering knowledge: Apply the knowledge of mathematics, science, engineering fundamentals and an engineering specialization to the solution of complex engineering problems.

PO2: Problem analysis: Identify, formulate, review research literature and analyze complex engineering problems reaching substantiated conclusions using first principles mathematics, natural sciences and engineering sciences.

PO3: Design/development of solutions: Design solutions for complex engineering problems and design system components or processes that meet the specified needs with appropriate consideration for the public health and safety and the cultural, societal, and environmental considerations.

PO4: Conduct investigations of complex problems: Use research-based knowledge and research methods including design of experiments, analysis and interpretation of data and synthesis of the information to provide valid conclusions.

PO5: Modern tool usage: Create, select, and apply appropriate techniques, resources and modern engineering and IT tools including prediction and modeling to complex engineering activities with an understanding of the limitations.

PO6: The Engineer and Society: Apply reasoning informed by the contextual knowledge to assess societal, health, safety, legal and cultural issues and the consequent responsibilities relevant to the professional engineering practice.

PO7: Environment and sustainability: Understand the impact of the professional engineering solutions in societal and environmental contexts, and demonstrate the knowledge of, and need for sustainable development.

PO8: Ethics: Apply ethical principles and commit to professional ethics and responsibilities and norms of the engineering practice.

PO9: Individual and teamwork: Function effectively as an individual, and as a member or leader in diverse teams, and in multidisciplinary settings.

PO10: Communication: Communicate effectively on complex engineering activities with the engineering community and with society at large, such as, being able to comprehend and write effective reports and design documentation, make effective presentations, and give and receive clear instructions.

PO11: Project management and finance: Demonstrate knowledge and understanding of the engineering and management principles and apply these to one's own work, as a member and leader in a team, to manage projects and in multidisciplinary environments.

PO12: Life-long learning: Recognize the need for, and have the preparation and ability to engage in independent and life-long learning in the broadest context to technological change.

Program Specific Outcomes (Psos)

PSO1: Ability to perform the critical analysis and problem-solving skills required for conducting research in Manufacturing, Design, and Thermal Engineering.

PSO2: Ability to employ computational techniques and instrumentation to conduct experiments and simulate real-world scenarios in engineering. They will also be capable of working independently in research or industrial environments.

PSO3: Capability to communicate their acquired knowledge effectively in both written and oral discourse.