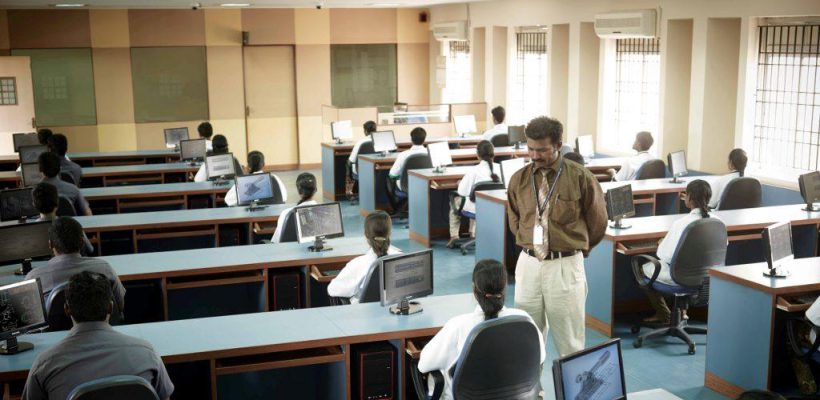 Welcome to Department of CSE
The Department of Computer Science and Engineering (CSE) was established in the year 2008 with the mission to educate students from all over India, including students from rural areas. The Department has the state-of-the-art facilities for various laboratories and Wi-Fi enabled campus to support e-Learning.
The department provides an excellent ambiance for students to learn and acquire the necessary skills required by the IT Industry. Technological innovation is so rapid in this field that continuous education is essential to enhance the skill set of students keeping in pace with the current trends.
The department has experienced faculty members who are fully committed to teaching and research. The advance curriculum requires the students to take up a broad spectrum of courses with special emphasis on desired areas of specialization. Hence, the department has brought out exceptional engineers in the past and will continue to do in the years to come. The students are actively involved in Co-curricular (CSI) and Extra Curricular (Sports and Social) activities throughout the year. The Department maintains an excellent interaction with IT industry and organizes regular guest lectures by experts, industrial visits, internships etc. and stands for industry – Institute collaboration.
The Department is renowned for cutting edge research and for imparting state of the art education. The department offers a stimulating and well-supported research and teaching environment. The department has experienced significant growth in the decade in all aspects.
Vision & Mission
Department Vision
To become a centre of excellence in the field of networking, big data, cloud computing, security systems and involving in research activities concerning rapid development in emerging fields.
Department Mission
M1: Preparing graduates with the knowledge and skills in advanced systems with the exposure of latest tools in computer science and engineering.
M2: Promote continuous learning environment to encourage innovations, problem solving skills, leadership qualities and team-spirit.
M3: Interact with industries working in the field of cloud computing and network security to share knowledge for getting expertise to benefit organization, region, and society.

Program Educational Objectives (PEOs)
PEO1: Educate and guide students to attain professional competency in the field of computing for pursuing higher studies and get employed in industries.
PEO2: To nurture the students, in learning modern research tools, exploring requirements of the software, understand the technical specifications, design and provide innovative engineering solutions and efficient products.
PEO3: To groom students with good attitude, proving professionalism in the work environment by involving themselves in service to the community and exhibit ethical values.

Programme Outcome (PO)

PO1: Apply knowledge of mathematics, science and engineering to formulate physical problems of engineering, solve with respect to time in a probabilistic manner and test the logic of a program.
PO2:To understand and analyze the problem, to design a digital circuit, parallel architectures and signal processing systems and provide solutions to the problems.
PO3:An ability to design algorithm, software and hardware, analyze the complexity, apply appropriate design patterns, implement and test the product.
PO4:An ability to design and conduct experiments in emerging fields like big data, secure computing, completely analyzing and interpreting data to give meaningful conclusions and recommendations
PO5:To create and select appropriate tools for modern engineering based on its limitations in predicting, modeling complex engineering activities.
PO6:To understand the impact of engineering solutions in a global, economic, and social responsibility.
PO7:Demonstrate the knowledge of professional engineering solutions in environmental context and provide sustainable development.
PO8:To understand ethical principles and professional responsibility.
PO9:Ability to perform efficiently as a member in projects and events organized, act as a leader in diverse multidisciplinary settings.
PO10:Ability to communicate effectively in delivering documents, presentation and reports.
PO11:Ability to communicate in a team to accelerate the team management, coordination skills and leadership qualities in the work culture and to manage projects in multidisciplinary environments.
PO12:An ability to learn by oneself and as a team in emerging technologies lifelong by enrolling in professional bodies and participating in the activities.

Innovative Teaching & Learning